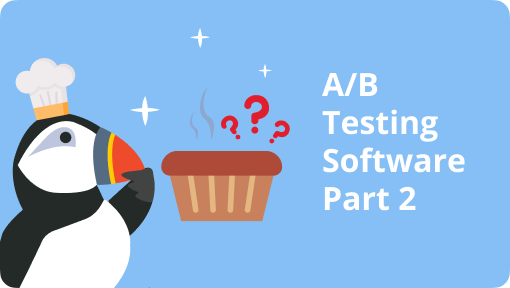 A/B Testing Software Part 2
A/B testing software isn't easy to shop for. Below we address things to consider as you search for the right website testing tools for you. As a reminder, conversion rate optimization should start with requirements first. By working backwards from your requirements the right A/B testing tool will address your goals. This will position your A/B testing program for success. Below are a few things to consider when it comes to A/B split testing – as it relates to funnel reports, dayparting reports, and turning A/B tests on and off.
A/B testing software funnel reports 
After launching a few A/B tests you realize how valuable funnel reports are. You would think, today, all A/B testing tools would have funnel reports. They don't.
Puffin.io – A/B testing software for websites – includes funnel reports for all A/B tests. This means, you can understand what recipe pushed more visitors down funnel and what recipe converted more users.

This is important because when you understand what pushes more visitors down funnel, you can leverage this finding and double down on future a/b tests.

Alternatively, with a limited view, and no funnel reports, you would never surface this finding and are unable to act. By leveraging Puffin.io funnel reports you position yourself to know more about your visitors and ultimately increase your conversion rates. 
A/B testing software dayparting reports
Viewing data by a specific date range is important. For example, you want to see data from 3 days ago or 25 days ago? Seems rather simple right? Well not all A/B testing tools support viewing reports by a specific date range.
Puffin.io supports dayparting reports. You can view all A/B testing data for any date range you like. This is useful for a variety of reasons.

For example, if you are trying to examine weekend data vs weekday data, that is possible with Puffin.io A/B testing software. With other A/B testing tools this would be impossible.

Examining data and sorting in a manner that is useful for you is our goal with Puffin.io. With other A/B testing tools you do not have this flexibility to sort data. 
A/B testing software pause and start campaigns 
There are many reasons to pause and start A/B tests. The issue here is retaining the original data of the A/B test when paused. Other A/B testing software companies force you to stop and reset your data. This doesn't make any sense to Puffin.io.
Puffin.io let's you pause your A/B test and relaunch with the same data. 

This means you can start back up where you began and not waste time regaining ample sample size to reach a conclusion – which can equal to days or weeks of data.

This prevents you from wasting time by stitching data together from two A/B tests – an annoyance. With Puffin.io you are free to start and stop your A/B tests without disrupting your data.
If funnel reports, dayparting reporting and pausing A/B tests without losing data are part of your website testing requirements Puffin.io will meet your requirements. Want to learn more about about Puffin.io conversion testing solution click here.
Puffin.io A/B Testing for Websites