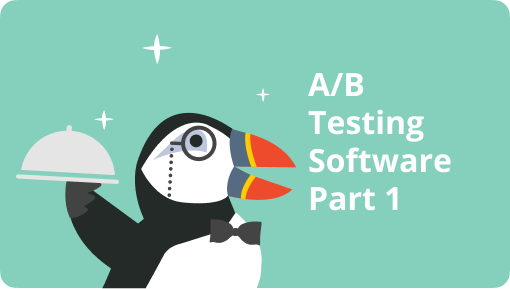 A/B Testing Software Part 1
A/B testing software is a challenge to shop for. Below we address things to consider as you search for the right website testing tools for you. Remember, conversion rate optimization should start with your requirements first. By working backwards from your requirements the right A/B testing tool will surface and address your goals. Below are a few things to consider as it relates to price, speed and reporting for A/B split testing.
Price for A/B testing software 
A/B testing software should have a reasonable price. For example, if you are spending time budgeting for A/B testing software for your website – that is a problem.
Puffin.io witnessed this pain point and today offers A/B testing software for a reasonable price.

Puffin.io is free to start and won't cost thousands of dollars. You can launch an A/B test today and are not required to talk to sales. Launch as many A/B tests you want and never have to worry about price.

Free to try, full refund if you are not 100% happy. Only $49/ month when you pay annually. 
Speed of A/B testing software 
A/B testing tools must be useful. And a great way to be useful is saving everyone time. For example, Puffin.io doesn't take months to integrate.
The implementation of Puffin.io only takes a few mins.

Puffin.io is 100% self service – have your technical team read our simple documentation – a 5min read. So simple, you can launch an A/B test today.

To help speed things up, no credit card is required to try Puffin.io.

Launch as many A/B tests you like for 30 days. Invite as many collaborators as needed.

We have removed all barriers to ensure you can launch an A/B test as fast and quickly as possible. 
Real time reporting for A/B testing 
Some A/B testing tools do not provide real time reporting. The issue here is – who can afford to wait days QAing A/B tests? For example, anyone launching an A/B test knows how important real time reporting is. QA visitor count, conversion reporting, segmentation, targeting conditions, and if recipes display as expected.
This is why real time reporting is essential. Puffin.io understands this requirement.

We launch A/B tests all the time and Puffin.io has been designed from the ground up to offer real time reporting. Launch an A/B test and the moment someone enters your campaign reports update real time.

You don't have to wait hours or days wondering if your A/B test is working as expected. Not only does this hurt you, it also adds risk to your visitors having a poor experience.

The outcome, with Puffin.io real time reporting, is utility with speed. All the things which are essential for your company to be successful. Waiting hours for reports is unacceptable.  
If price, speed and real time reporting are part of your website testing requirements Puffin.io will meet your requirements. Want to learn more about about Puffin.io conversion testing solution click here.
Puffin.io A/B Testing for Websites